Mónica Mootz
Birth Date:

Death date:

Person's maiden name:

Mónica Spear Mootz

Extra names:

Моника Мутц, Mónica Spear Mootz;, Моника Спир Мутц

Categories:

Nationality:

Cemetery:
Mónica Spear Mootz (October 1, 1984 – January 6, 2014) was a Venezuelan beauty pageant titleholder and actress who won Miss Venezuela 2004 and represented her country at Miss Universe 2005 where she finished as 4th Runner-Up. In recent years she had become a star in telenovelas (soap operas).
Miss Venezuela 2004
During the Miss Venezuela 2004 pageant, Spear won the national crown and represent Venezuela at Miss Universe 2005.
Miss Universe 2005
Spear made the top 15 after Ana Karina Áñez (Miss Venezuela 2003) failed to make the top 15 in Miss Universe 2004, which was the first time in 22 years that Venezuela failed to place. Spear went on to place in the top five after the evening gown and swimsuit competitions. During the Final Question round, she stumbled while answering the question given by Miss Mexico, Laura Elizondo, and eventually finished as 4th Runner-Up. The Top 5 was dominated by the Americas, consisting of Spear, Laura Elizondo of Mexico (3rd Runner-Up), Renata Soñé of the Dominican Republic (2nd Runner-Up), Cynthia Olavarría of Puerto Rico (1st Runner-Up), and Natalie Glebova of Canada (Winner).
Personal life
Prior to being named the "fifth most beautiful woman in the universe," Spear completed a bachelor's degree in theater from theUniversity of Central Florida before returning to Venezuela to compete in the national pageant. Her participation in Miss Venezuela garnered notoriety when she was asked during the traditional "breakfast with press" the day after the pageant, because of her degree, which Venezuelan playwright she liked the most, to which she answered, "Gabriel García Márquez", a Colombian writer. She crowned her Miss Venezuela successor, Jictzad Viña, on September 15, 2005.
Spear married a British businessman, Thomas Henry Berry, whose nationality was later misidentified as Irish, in June 2008. She gave birth to a daughter later the same year. The pair divorced in 2013, but remained friendly. She was a naturalized United States citizen, resident in Miami, Florida. She is a cousin of Jossie Nikita Marques Spear, a Venezuelan model.
Alma mater - University of Central Florida
Height 5 ft 10 in (1.78 m)
Measurements Bust:
90 cm (35.4 in)
Waist: 60 cm (23.6 in)
Hips: 90 cm (35.4 in)
Hair color  - Black
Eye color - Brown
Title(s) Miss Venezuela 2004 Major competition(s) Miss Venezuela 2004 (Winner) Miss Universe 2005 (4th Runner-Up)
Spouse - Thomas Henry Berry (2008–2012; divorced);
1 child - Maya Berry Spear ( 5 year)
Professional life
After that, Spear became one of the most successful actresses in Venezuela for her main roles in soap operas. She took her first role as a protagonist in the successful RCTV soap opera Mi Prima Ciela (My Cousin Ciela), in which she played a high-school student battling leukemia. The show was a success in Venezuela and other parts of South America, and it was also televised in the U.S. by TeleFutura. Spear held the starring role in Venevisión's soap opera La Mujer Perfecta in 2010, and recently had a starring role in Flor Salvaje; a Spanish-language telenovela produced by the Miami-based television networkTelemundo and RTI Producciones. She had been living in Miami since she began working for Telemundo.
Death
Spear was in her native Venezuela on vacation with her ex-husband and their five-year-old daughter. On a highway in centralCarabobo, when the three were inside their car waiting for assistance after the vehicle had broken down, Spear and Berry were killed during an attempted robbery and their daughter shot and wounded in her leg. The police reported that the incident occurred around 9 or 10 p.m. It has been theorized that the thieves tried to rob them and the couple tried to resist.
On the initial suggestion that her husband was Irish, the Irish Department of Foreign Affairs was investigating the incident. However, local police said he was travelling on a British passport. The international media also highlighted the rising rate of crime in Venezuela.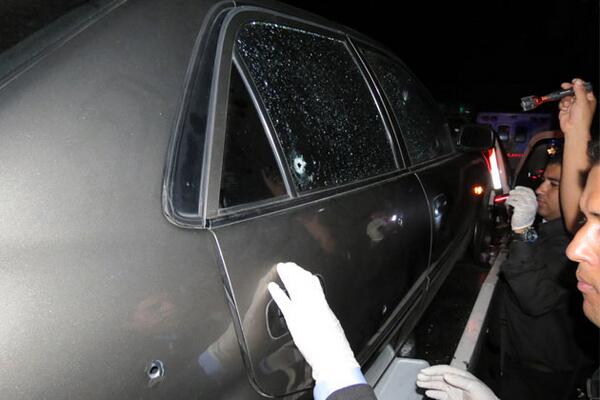 Telenovelas
Year Project Role Notes
2006 El Desprecio Tamara Campos Antagonist
2007 Mi prima Ciela Graciela Andreína Zambrano Ávila "La Ciela" Protagonist
2009 Calle luna, Calle sol María Esperanza Rodríguez Protagonist
2010 Que el cielo me explique Violetta de Robles Special participation
2010–2011 La Mujer Perfecta Micaela Gómez Protagonist
2011–2012 Flor Salvaje Flor / Amanda Monteverde Protagonist
2013 Pasión Prohibida Bianca Santillana de Piamonte Protagonist
Awards
Awards and nominations Year Award Category Nominated work Result 2013 Premios Tu Mundo Protagonista Favorita (Favorite Lead Actress) Pasión Prohibida Nominated
Source: wikipedia.org, nekropole.info